The following article should cover everything you need to know to begin the illustrations process! Please carefully read this information before filling out your illustration questionnaire. The next steps are outlined at the bottom of this article.
Table of Contents
🎬 Getting started
Choose your illustrator:
We work with a team of talented illustrators from Canada and around the world. You can review samples to make your top three choices for an illustrator at tellwellpublishing.com/kids
Illustrations questionnaire:
After reading this guide, you will describe your vision for each illustration in detail and select your top three illustrator choices in the Tellwell illustrations questionnaire. Make sure the most important details you want to see in the illustration are listed first. A detailed description of what is included with basic or complex illustrations is provided below.
Image tags and finalizing your manuscript:
As the author, it is your responsibility to finish work on your manuscript before submitting for illustrations, especially in terms of your vision for where each illustration will be placed relative to the text. While our illustrators will consider the content of your story, it is not their role or responsibility to read your manuscript from cover to cover; rather, they will complete your illustrations based on the information you submit in the Illustrations Questionnaire.
Therefore, it is really important for the author to thoughtfully fill in the questionnaire and include the image tags in the places where the illustrations will best support the story. Put yourself in your reader's shoes: if you were reading the book for the first time, which parts of the story would you most want to see illustrated? Ask your friends, family, and kids for their advice. Illustrations are a significant investment of time and money, make sure you do your research beforehand to get the most value out of this service!
The number of illustration tags you include in your manuscript should correspond with the number of illustrations included in your publishing package.

More information on image tags and how to add them to your manuscript are included on page 2 of our Manuscript Submission Guidelines.
👩‍🎨 The Tellwell illustrations process
After you fill in the questionnaire and an illustrator accepts your project, they will begin work on a single illustration. Upon approval of the initial image, the illustrator completes the remainder of the illustrations in one batch. Below is an outline of the whole process (more details here):
Black & white initial sketch >

author revisions optional>

revised sketches >

author approval

>

coloured image & author approval
Black & white remaining sketches >

author revisions optional>

revised sketches >

author approval

>

coloured images & author approval


All images finalized for print

Interior design phase begins...
Sketch revisions:
We strongly recommend you let the illustrator use their professional discretion and expertise to fill in most of the image details. However, as the author, it is your responsibility to check the sketches carefully for consistency with the story text.
Any discrepancies can be fixed during the sketch revision round, in which you can have the illustrator change as much of the illustration as you would like, as long as it does not completely differ from the original description.
If the changes require restarting the illustration, there will be a fee to do so. Extra sketch revision round costs are as follows:
Minor revisions: $45CAD

Regular revisions: $60CAD

Major revisions: $75CA

D
Colour revisions not included:
Colour revisions are not included in the cost of illustrations, because changing the illustration once it has been coloured will generally require the illustrator to restart the image from scratch. Therefore, if you have a specific colour scheme in mind, it is very important that you define the colours you want in the illustration questionnaire. Of course, your illustrator will use their professional judgement to select most of the colouring. If you need to make colour revisions for whatever reason, your Project Manager will be able to provide you with a quote.
📅 Timeline
The timeline for your illustrations will vary based on illustrator availability, image complexity, number of illustrations, and the time it takes you to submit your revisions. For these reasons we are unable to give firm deadlines for completion. You can click here for more info, or your Project Manager may be able to advise which of your preferred illustrators will be able to offer the shortest turnaround time.
👨‍💻

Describing your illustrations

You can see it in your head, let us bring your vision to life!

While describing the illustrations in your illustration questionnaire, please keep in mind the number and complexity of images included in your publishing package. If what you need for your illustrations does not fit within the number or complexity of illustrations you have purchased, your project manager can help you come up with a revised budget. See below for more info on basic vs. complex illustrations.

Illustrators will often include more detail than is defined in your descriptions; using their artistic expertise to create something that will suit the target market.

The level of detail you provide is ultimately up to you, and we recommend striking a balance between fully articulating your vision—so that you hopefully need to make less revisions, while also leaving room for the illustrator's expertise and creativity to shine through. If you are purchasing a complex illustration, your illustrator will include the appropriate level of detail when creating the image.

All of our illustrators are incredible artists, but most, if not all, of them are poor mind-readers, so be sure to write down all the details that are critical to include in your questionnaire.

There can be more people in an illustration than defined, the "definable characters" (1-2 in basic, up to 4 in complex) speaks to the amount of characters for which you can request specific looks, clothing, etc. Other characters must be explained simply, e.g. three other boys around the same age as the main character.
📖 "Full spread" and multi-scene illustrations
Two-page full spread illustrations can be considered the same as a one-page illustration for billing purposes, but keep in mind, the amount of detail and specificity will need to meet the same requirements as if it were a single page illustration. In other words, one page worth of details will be spread across two pages.
In most cases, for multi-scene illustrations each scene described will be considered a separate illustration. For example, having one page with an illustration of a girl running at the top and an illustration of her after falling down below would be considered two illustrations.
🎨 Basic Vs. Complex Illustrations
Depending on your budget and the level of detail you require in your images, illustrations can be drawn as either basic or complex. Refer to your original invoice for the number of basic or complex illustrations included in your publishing package. If you have a mixture of both styles, you may either specify which are basic and which are complex in the questionnaire, or ask your illustrator to use their professional expertise to decide how best to spread your budget across your illustrations.
A single basic illustration costs $200 CAD
A single complex illustration costs $400 CAD
Here's a sample basic illustration.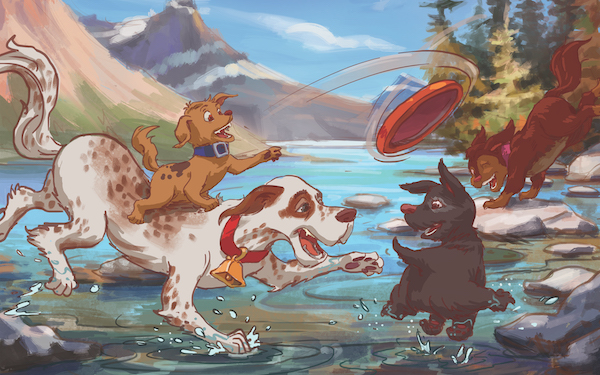 Basic illustrations include basic shading and simple details, such as:
1-2 definable characters + 2-5 descriptors
E.g., A large English setter with a bell on its collar, chasing a frisbee with 3 puppies.
No background or simple background
E.g., Sunny day, with some clouds in the sky, beside a lake with a mountain, and forest in the distance
One Action/Emotion
A playful dog with a red collar, chasing a frisbee by the lake with other dogs.
Here's a sample complex illustration:
Complex Illustrations include more character and background details, with detailed shading, colours, depth and textures, such as:
1-4 definable characters + 5-10 descriptors
E.g., "An English Setter dog with a bell on its red collar, playing with puppies (one brown and one black) much younger than him, who are looking up at him with admiration in their eyes.
Defined background (specified by author, or following illustrator's artistic expertise)
E.g., Sunny day, with some clouds, a busy beach that is buzzing with activity of other dogs and people. Mountains in the distance and a small island with trees and a person in the centre of the lake, there are canoes and swimmers in the lake.
Multiple Actions/Emotions
E.g., The English Setter is standing tall and proud with a big smile on his face. In the background someone is diving in the lake. There's a happy couple walking their dog, and the people in a canoe are fishing.
🎯 Creating illustrations for your target market/age range
It is important to remember when working with an illustrator that you are creating illustrations for a specific target market. The illustrator, as an expert in the field, will know what level of detail is required for that audience.
For example, when working with a target audience of children ages 0-12, telling the illustrator to include a brown mouse in the image is enough detail. You do not need to be overly specific, for example, a Eurasian Harvest Mouse with reddish-brown fur, white underparts and a naked, highly prehensile tail. This level of detail will not be noticed by the target market, so it is best to work within what your market requires. This will also help you stay within your project's budget.
The above two images are of the same scene in a book, one is created as a basic illustration and one as complex.
In the basic illustration, the author asked for, "A playful dog with a red collar, by the lake with other dogs."
In the complex description, the author asked for, "An English Setter dog on a busy beach that is buzzing with activity of other dogs and people. He has a red collar with a bell, and is playing with puppies that are much younger than him. One of these dogs is a brown dog, and one is black. They are looking up at him with admiration in their eyes."
As you can see, the outcome of these descriptions both came up with beautiful images, however the level of included detail differs between the two.
🏃‍♂️ OK I'm ready! What's next?
If you've finished reviewing the above guide you're ready to fill out your illustrations questionnaire and get started on your illustrations:
Add image tags to your manuscript showing where each illustration will go, and upload the .docx file to Octavo when prompted.

Select your top three illustrators from this list: tellwellpublishing.com/kids

Fill out your illustrations questionnaire in Octavo when prompted.
As always, if you have any questions you can book at time to speak with your Project Manager or email support@tellwell.ca
Related articles:
How does the Illustration process work?